Product Description
Hot-Dipped galvanized steel tube
This process takes [bare" steel tube already in it`s finished form as a shape and gets dipped in a zinc bath to get coated as a galvanized steel tube. This process adds 6% to the [bare" weight of the steel.

Pre-Galv steel pipe:
This is where mills take galvanized coil and produce it to tube . The weld is then [galvanized" by means of a coating.


Name:Steel Square Tube
BS1387 greenhouses hot dip galvanized pipes

Square pipe: 20*20mm~400*400mm
Rectangular pipe: 20*40mm~300*500mm

hot dipped Galvanized Welded Rectangular tube Wall Thickness
Round pipe: 0.95~17.75mm
Square and rectangular pipe: 1.7~16mm

Steel Square Tube Length:3-12M according to client requirement ,Galvanized Square Steel Pipe/Tube
Standard:Hollow section: ASTM A500, EN10219, EN10210, JIS3466, GB/T 6728
Material:Gr.A, Gr.B, Gr.C,
S235, S275, S355,
A36, SS400,
Q195, Q235, Q345
Steel Square Tube Certificate:ISO 9001:2008,SGS, BV, CCIC etc
Finish of pipe

Hot dipped galvanized with zinc 220~260g/m2;
Pre-Galvanized with zinc 30~150g/m2
Painted with black/varnish lacquer;
Oil on the surface to prevent rust;
Bare pipe without painting
Square Hollow Sections of Steel Square Tube
Rectangular Hollow Sections of Steel Square Tube
| | | | | | |
| --- | --- | --- | --- | --- | --- |
| | | | | | |
| 10×20 | 0.6~1.5 | 30×40 | 1.0~3.75 | 50×100 | 2.0~8.0 |
| 14×21 | 0.6~1.5 | 30×45 | 1.0~3.75 | 60×80 | 2.0~6.0 |
| 15×30 | 1.5~1.5 | 30×50 | 1.0~4.0 | 80×100 | 2.0~8.0 |
| 15×38 | 0.6~1.5 | 30×60 | 1.0~4.5 | 120×60 | 2.5~10.0 |
| 20×30 | 0.6~2.0 | 40×50 | 1.0~4.5 | 120×80 | 2.5~10.0 |
| 20×40 | 0.8~2.0 | 40×60 | 1.0~5.0 | 150×100 | 2.5~12.0 |
| 20×50 | 1.0~2.0 | 40×80 | 1.5~5.0 | 180×150 | 2.5~12.0 |
| 22×35 | 0.9~2.0 | 40×100 | 2.0~5.0 | 200×100 | 4~12.0 |
| 25×40 | 0.9~3.75 | 50×60 | 2.0~5.0 | 200×150 | 4~12.0 |
| 25×65 | 1.0~2.0 | 50×80 | 2.0~5.0 | | |
Picture of Steel Square Tube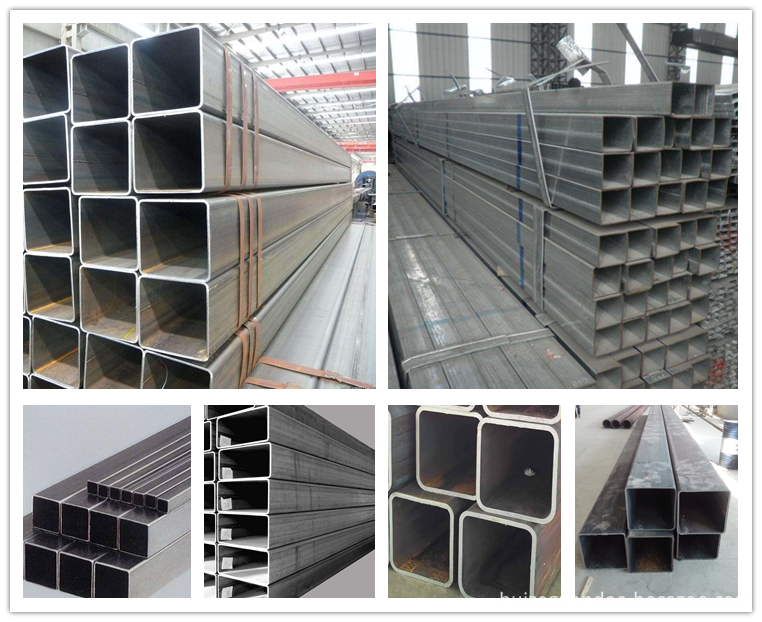 Certificate